I have this idiosyncrasy in which, immediately upon watching any movie or TV show episode, I go to the Internet to peruse critics' reviews and recaps for about an hour. I'm not too sure why I do this; it's clearly unnecessary for me to read a summary of a story I have just heard, unless I didn't understand parts of it. But I do like to get different perspectives on a work as a whole before I talk about it with others. Anyway, I've only brought this up because I'd forgotten that the word recap is short for recapitulation, which literally means "beginning again from the top/head".
This past year saw some large changes in my life, most notably my moving back to the US from Korea and beginning graduate school. I also closed my old blog on Blogspot and began this new one on WordPress. Some other highlights — by no means inclusive, but just off the top of my head — include visiting Japan, Thailand (during the Bangkok protests), and Laos in January and visiting North Korea in February. Throughout the spring semester, I began attending Redeemer Changwon and finally felt more like part of a church community, and I did an independent research project about Jeju-eo, an endangered variant of Korean. I also volunteered with North Korean defector students in the spring and summer and worked at a short summer camp at the Drim School. In April, the sinking of a ferry full of schoolchildren became international news. In June, I obtained my black belt in taekgyeon. And in August, I left Korea.
I spent about one month looking desperately for housing… Then, after the fall semester began, I quickly acclimated to life as a student again, albeit with a few changes. I moved into an apartment with some people from my new church, Living Water Berkeley, got a bike, and began my own linguistics research in addition to classes. I also got into a daily exercising routine, which included yoga and zumba in addition to weightlifting. There were two weddings in my family, one in August and the other in November. I was able to visit friends in LA and all around the Bay Area, some of whom I hadn't seen in five or six years.
Finally, near the end of the semester, the shit hit the fan when #Blacklivesmatter protests erupted around the country, and through a combination of demonstrations, research, and long talks with friends, I learned a few very valuable lessons that I plan to take forward with me into the new year, among them: 1) Justice and equality are not a given here, 2) They are worth fighting for, and 3) The problem at hand is white racism against the black community, but the various identities I hold — not just the racial one — are also relevant in the bigger fight to dismantle supremacist power structures and replace them with something new and fair.
One might say, "Well, that escalated quickly."
But it actually didn't. Tragedies happen with increasing regularity; trends in the news come and go. While it may seem like the end of 2014 was tainted by more unrest and tribulation than normal, I don't think that's actually the case. We're just able to pick and choose what we want to influence us. And while I generally eschew placing too much importance on arbitrary temporal boundaries such as the one between calendar years, I think one thing I will try to do in 2015 is be more aware of what's being told in the news — as well as what's not — and respond physically, passionately, and publicly in what useful and empowering ways I can.
And now, a propos absolutely nothing except the general theme of recapitulation, here is a lovely graphic from the WordPress "stats helper monkeys" that illustrates the meager milestones of this blog. It's now one semester old… eleven more to go! Click here to see the complete report.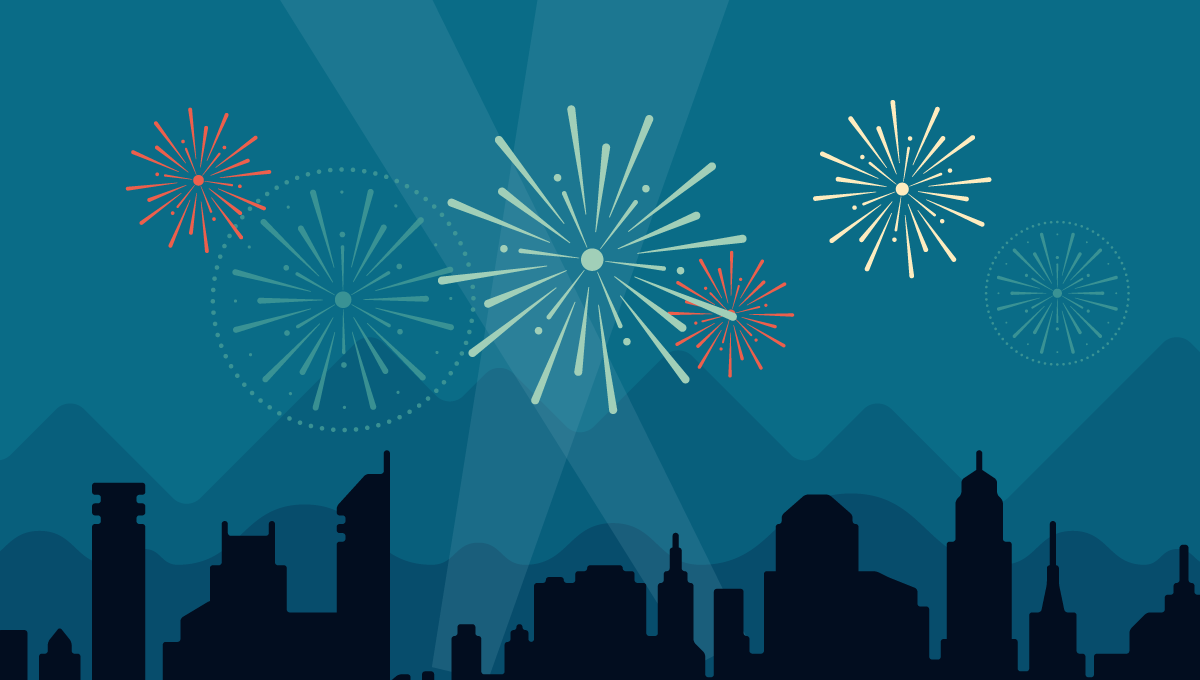 So, while the rest of the world has already celebrated the passing of this year, here on the West Coast of California, I'd like to wish everyone: 새해복 많이 받으세요! 新年快樂! Sin-nî khòai-lo̍k! Bonne année, y próspero año nuevo! Have a happy start to 2015!
ω
Word of the Day: cusp, from the Latin meaning "point", is used to refer to a point of transition, such as scientists who are on the cusp (or verge, or edge) of a medical breakthrough. More technically, in geometry or architecture, it means the point where two curves meet, like the two curves that make a crescent shape (two cusps), or the two hyperbolae that make a four-pointed star (four cusps). We're on the cusp of 2015… but is this point of transition an apex from which the path continues downward, or can things only go up from here?